Houston Roofing Repair
All You Need to Know About Roof Inspections


Your home's roof is its first line of defense against storms and extreme weather, be it a foot or more of snow dropping from the sky overnight or high winds that tear through the town. When homeowners place blind faith in their roof and neglect it completely until the first sign of a leak appears in the ceiling, they could already be facing much larger problems—unwanted structural issues, mold growth, or damaged insulation, for starters. Spare yourself a headache down the road by having your roof periodically inspected.
When to Schedule Roof Inspections
After a hailstorm or other significant weather event, most homeowners recognize the need for a thorough roof inspection to determine whether their roof suffered damage. But that shouldn't be the only time you consider your roof's health.
Perhaps the most vital time of year to have your roof inspected is the fall, before the cold of winter sets in. Timing is key. Frigid temperatures can compromise the success of new roof installations and such repairs as shingle replacement because new shingles can't seal down properly when it's too cold outside. Moreover, attempting repairs on icy roofs can be treacherous, so roof problems uncovered too late in the season may have to wait until spring to be fixed.
Source: Bob Vila
JP Roofing & Gutters is a company born in Houston, TX. We have been in business since 1989, we are proud to be Family Owned and Operated, 50% of our business is repeat business, we are fully bonded, and insured. All our work is guaranteed, we strive to be the best roofing company in the Greater Houston Area, by providing you with the best customer service and have you as a customer for a lifetime. Your satisfaction is our Future. Call at 281-463-9077 for Free Estimates.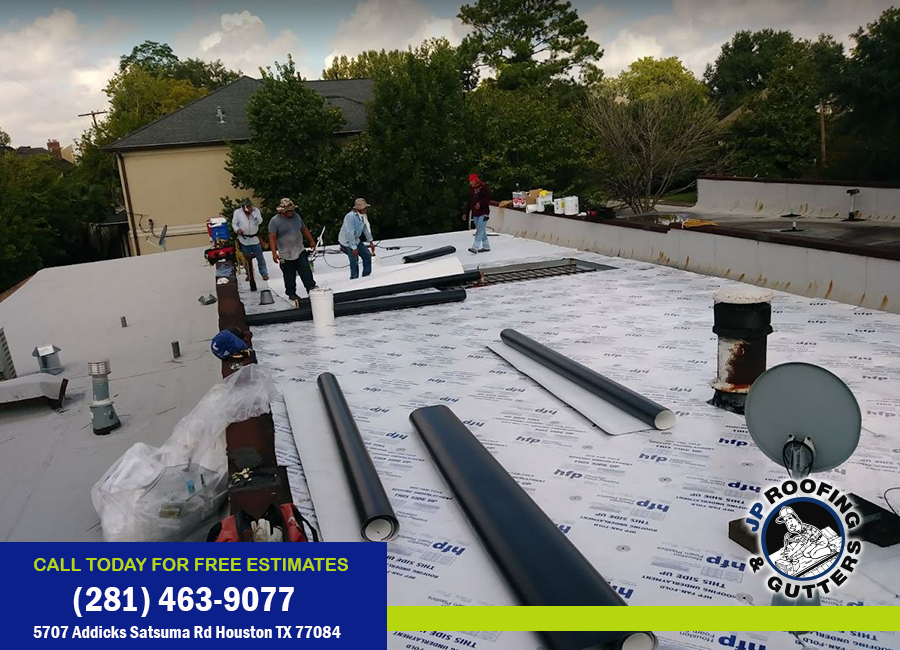 Call now at 281-463-9077 | 📍5707 Addicks Satsuma Rd, Houston, TX 77084, Estados Unidos |
or mail

us

This email address is being protected from spambots. You need JavaScript enabled to view it.

| Get A Free Estimate HERE:
Houston Roofing Companies
Roofer in Houston, Roofer Services in Houston,Residential Roofer in Houston, Commercial Roofer in Houston, Roofing Company in Houston, Residential Roofing Company in Houston, Commercial, Roofing Company in Houston, Roofing in Houston, Roofing Services in Houston, Residential Roofing in Houston, Residential Roofing Service in Houston, Commercial Roofing in Houston, Commercial Roofing Service in Houston, Roof, Company Installers in Houston, Roof Installers in Houston, Residential, Roof Installers in Houston, Commercial Roof Installers in Houston, Roof Installation in Houston, Roof Company Installation in Houston, Residential Roof Installation in Houston, Commercial Roof Installation in Houston, Roofing Contractors in Houston, Residential Roofing Contractor in Houston, Commercial Roofing Contractor in Houston, Roof Repair in Houston, Residential Roof Repair in Houston, Commercial Roof Repair in Houston, Re Roof in Houston, Re Roof, Residential Roof Maintenance in Houston, Commercial Roof Maintenance in Houston