How to Protect Your Home from Rainwater Damage

How to Protect Your Home from Rainwater Damage
Few things are as stressful to homeowners as water damage. It can be a sinister, creeping issue that many don't discover until it has become a big, expensive problem.
At its worst, moisture has the potential to damage your home beyond affordable repair, with heavy structural consequences that include mold, wood rot, and even foundation cracks. If you're lucky, you'll catch it early and stop it before it spreads. But even small leaks that allow rainwater into the house can require major repairs to keep moisture at bay.
The best way to deal with water damage is to stop it before it starts. Here are measures that you can take to prevent water from entering your home from outside.
Waterproof Your House Exterior
The exterior of your house is its first line of defense against water damage. Protect your home from the outside in by maintaining the exterior.
Maintain Your Roof
Your roof's primary purpose is to keep water out of your house. Neglecting it could lead to a whole host of problems, the worst of which includes extensive water damage that could compromise the structure of your home. Most roofs have a lifespan of 20 to 30 years, so it's easy to think that if yours is still within its period of usability, it's fine. But that's not necessarily true.
Climate, weather conditions, and even nearby trees can cause damage to roof shingles. Periodically inspect your roof for damaged, loose, or missing shingles. Replacing any shingles that are missing or in poor condition is a quick and inexpensive project that can extend the life of your entire roof.
Clean Your Gutters
Making sure your gutters function properly is critical to protecting your home from water damage. If your gutters are full of leaves and pine needles, or not angled properly to funnel water to the downspout, then water will run down the side of your house and collect at the base, which could put your foundation at risk.
Start by clearing built-up gunk from your gutters. If your gutters are too high to reach with an extension ladder, you may want to hire a professional. If you can reach them, then this is a job you can easily do yourself. Begin near the downspout, using your hand or a plastic gutter scoop to dig out the muck. Once gutters are cleared of obstructions, use a pressure washer to clean them.
Source: HOMETIPS
JP Roofing & Gutters is a company born in Houston, TX. We have been in business since 1989, we are proud to be Family Owned and Operated, 50% of our business is repeat business, we are fully bonded, and insured. All our work is guaranteed, we strive to be the best roofing company in the Greater Houston Area, by providing you with the best customer service and have you as a customer for a lifetime. Your satisfaction is our Future. Call at 281-463-9077 for Free Estimates.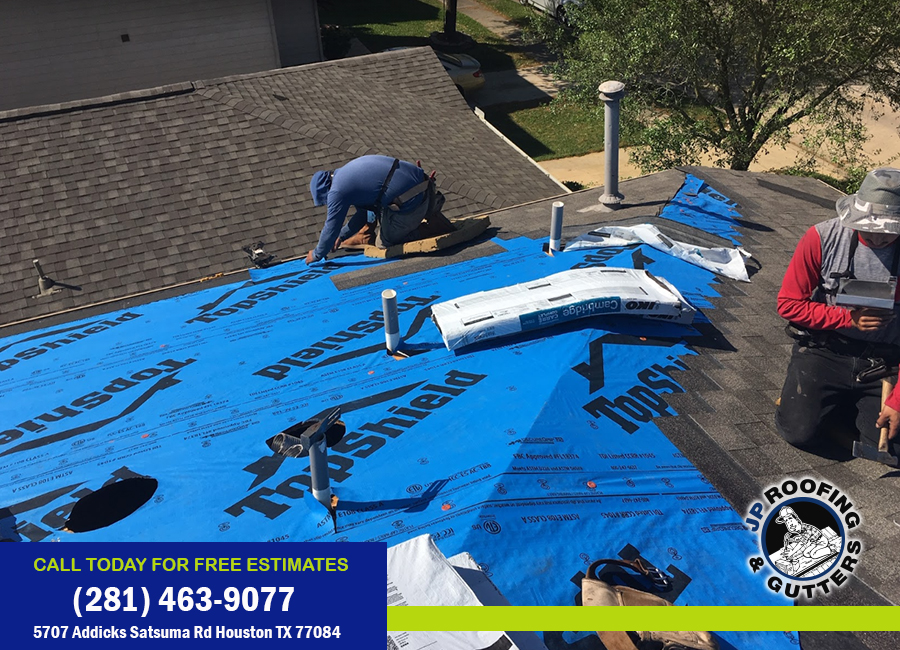 Call now at 281-463-9077 | 📍5707 Addicks Satsuma Rd, Houston, TX 77084, Estados Unidos |
or mail

us

This email address is being protected from spambots. You need JavaScript enabled to view it.

| Get A Free Estimate HERE:
Repair Roofing in Houston
Roofer in Houston, Roofer Services in Houston, Residential Roofer in Houston, Commercial Roofer in Houston, Roofing Company in Houston, Residential Roofing Company in Houston, Commercial, Roofing Company in Houston, Roofing in Houston, Roofing Services in Houston, Residential Roofing in Houston, Residential Roofing Service in Houston, Commercial Roofing in Houston, Commercial Roofing Service in Houston, Roof, Company Installers in Houston, Roof Installers in Houston, Residential, Roof Installers in Houston, Commercial Roof Installers in Houston, Roof Installation in Houston, Roof Company Installation in Houston, Residential Roof Installation in Houston, Commercial Roof Installation in Houston, Roofing Contractors in Houston, Residential Roofing Contractor in Houston, Commercial Roofing Contractor in Houston, Roof Repair in Houston, Residential Roof Repair in Houston, Commercial Roof Repair in Houston, Re-Roof in Houston, Re-Roof, Residential Roof Maintenance in Houston, Commercial Roof Maintenance in Houston