Houston Roofing Repair

Choosing the Right Roofing
If you're thinking about buying a new roof, be prepared to pick from possibilities that range from the familiar to materials you never knew existed.
Some roofing materials, such as slate, wood shakes, and copper, have remained virtually unchanged for centuries. But a considerable array of other roofing materials have joined them, from the perennial favorite, asphalt-fiberglass, to newer products made from fiber cement, concrete, and plastic composites. Most of these have been developed over the past couple of decades with an eye toward greater durability, easier installation, lower cost, sustainability, and other features homeowners want.
Roofing materials must be capable of handling whatever weather comes their way.
Because your home's roof is the primary barrier between you and Mother Nature, it's critical to choose a material that will shelter your home reliably. It must shed rain and snow, hold up in wind, and endure the sun for many years. Depending upon your climate and the shape and orientation of your home's roof, some materials will do this job better than others.
Roof Longevity & Durability
If you intend to stay in the house for several years, be aware that the ultimate cost of a material is a factor of its durability. For an inexpensive material such as composition roofing, you might only spend half the cost of a pricier product. But if the pricier product would last more than twice as long, you're not saving money in the long run because you may have to replace the roof again in the future.
Source: HOMETIPS
JP Roofing & Gutters is a company born in Houston, TX. We have been in business since 1989, we are proud to be Family Owned and Operated, 50% of our business is repeat business, we are fully bonded, and insured. All our work is guaranteed, we strive to be the best roofing company in the Greater Houston Area, by providing you with the best customer service and have you as a customer for a lifetime. Your satisfaction is our Future. Call at 281-463-9077 for Free Estimates.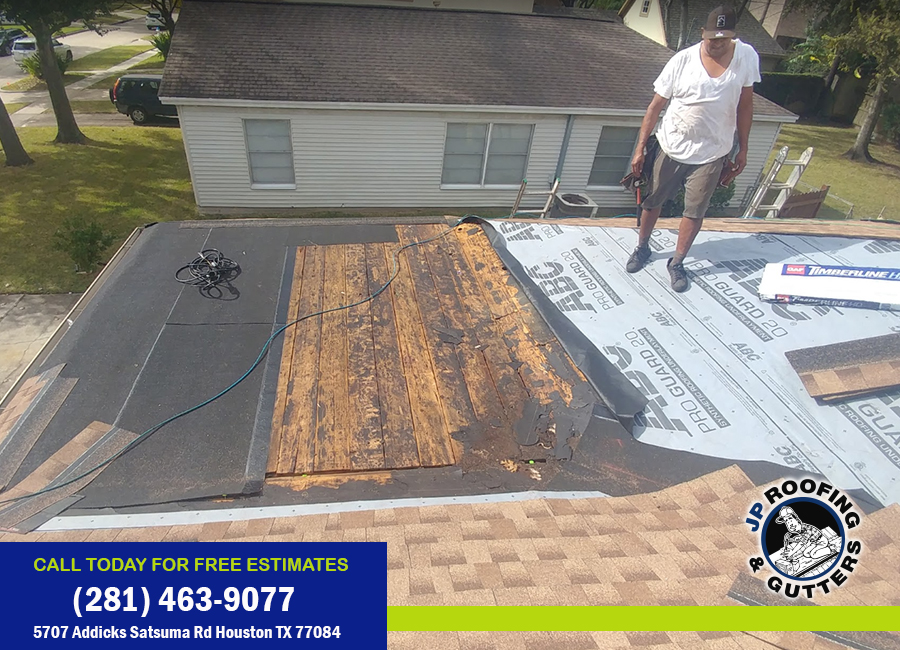 Call now at 281-463-9077 | 📍5707 Addicks Satsuma Rd, Houston, TX 77084, Estados Unidos |
or mail

us

This email address is being protected from spambots. You need JavaScript enabled to view it.

| Get A Free Estimate HERE:
Repair Roofing in Houston
Roofer in Houston, Roofer Services in Houston,Residential Roofer in Houston, Commercial Roofer in Houston, Roofing Company in Houston, Residential Roofing Company in Houston, Commercial, Roofing Company in Houston, Roofing in Houston, Roofing Services in Houston, Residential Roofing in Houston, Residential Roofing Service in Houston, Commercial Roofing in Houston, Commercial Roofing Service in Houston, Roof, Company Installers in Houston, Roof Installers in Houston, Residential, Roof Installers in Houston, Commercial Roof Installers in Houston, Roof Installation in Houston, Roof Company Installation in Houston, Residential Roof Installation in Houston, Commercial Roof Installation in Houston, Roofing Contractors in Houston, Residential Roofing Contractor in Houston, Commercial Roofing Contractor in Houston, Roof Repair in Houston, Residential Roof Repair in Houston, Commercial Roof Repair in Houston, Re Roof in Houston, Re Roof, Residential Roof Maintenance in Houston, Commercial Roof Maintenance in Houston