Repair Roofing in Houston

Knowing When To Repair Or Replace Your Roof including the best time to do so?
Is your roof is starting to look a little rough, you might want to think of getting those cracked slates replaced. You might need your chimney flashing repaired. Gutters starting to snag? How many repairs are too many? At what point should you just replace your whole roof?
Knowing when it's the right time to replace a roof can be incredibly difficult. Making the choice between another repair job or replacing the roof altogether is one that a lot of people put off till they get leaks.
Making a bad call can cost you thousands in emergency roof repair services. In order to minimise your costs as much as possible, we've come up with this guide to help you decide what's best for you.
Should a leaking roof be repaired or replaced?
The answer depends on a few factors – where is the leak, how often does the roof leak and how big is the leak or even am i willing to tolerate a bit of excess water?
For serious leaks that have caused damage throughout the property, you may need to think of the chances of this happening again. If you've had more than 3 leaks in the last year, it might worth considering replacing the roof entirely.
Roof leak repair can be a good short term solution, but if you're finding a lot of new leaks springing up once the bad weather settles in for the winter, it might be best to think about replacing the roof.
Small leak are easy to fix but if left end up leading to big leaks later – but what happens if the next one is a big leak that causes serious damage to your property and belongings?
Source: HOME ADVISOR
JP Roofing & Gutters is a company born in Houston, TX. We have been in business since 1989, we are proud to be Family Owned and Operated, 50% of our business is repeat business, we are fully bonded, and insured. All our work is guaranteed, we strive to be the best roofing company in the Greater Houston Area, by providing you with the best customer service and have you as a customer for a lifetime. Your satisfaction is our Future. Call at 281-463-9077 for Free Estimates.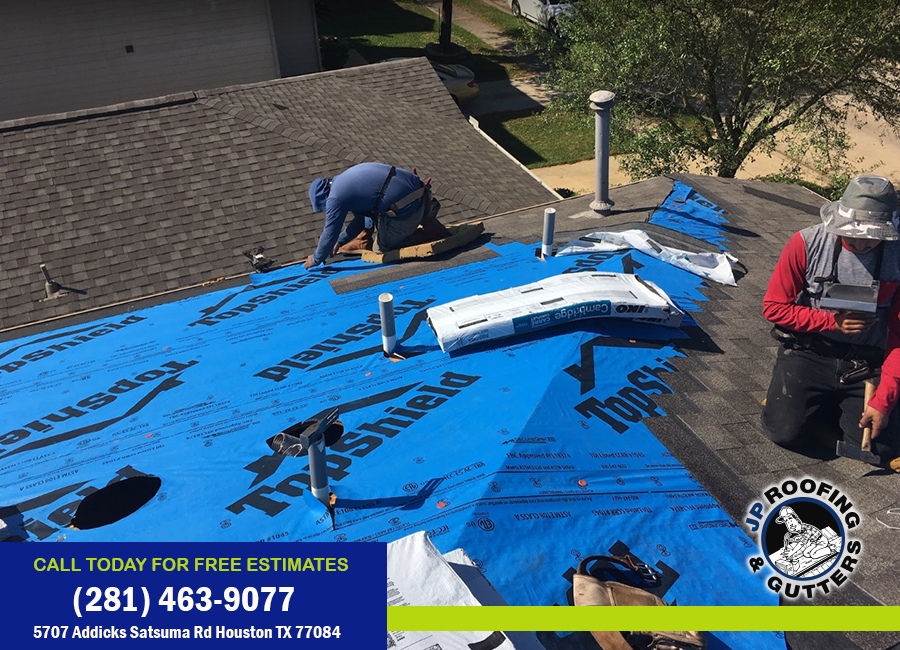 Call now at 281-463-9077 | 📍5707 Addicks Satsuma Rd, Houston, TX 77084, Estados Unidos |
or mail

us

This email address is being protected from spambots. You need JavaScript enabled to view it.

| Get A Free Estimate HERE:
Repair Roofing in Houston
Roofer in Houston, Roofer Services in Houston,Residential Roofer in Houston, Commercial Roofer in Houston, Roofing Company in Houston, Residential Roofing Company in Houston, Commercial, Roofing Company in Houston, Roofing in Houston, Roofing Services in Houston, Residential Roofing in Houston, Residential Roofing Service in Houston, Commercial Roofing in Houston, Commercial Roofing Service in Houston, Roof, Company Installers in Houston, Roof Installers in Houston, Residential, Roof Installers in Houston, Commercial Roof Installers in Houston, Roof Installation in Houston, Roof Company Installation in Houston, Residential Roof Installation in Houston, Commercial Roof Installation in Houston, Roofing Contractors in Houston, Residential Roofing Contractor in Houston, Commercial Roofing Contractor in Houston, Roof Repair in Houston, Residential Roof Repair in Houston, Commercial Roof Repair in Houston, Re Roof in Houston, Re Roof, Residential Roof Maintenance in Houston, Commercial Roof Maintenance in Houston