Houston Roofing Companies

Detecting Signs of Roof Hail Damage
Detecting Damage to an Asphalt Shingle Roof
While asphalt is one of the most popular roofing materials due to its durability and versatility, it can be prone to damage especially from continuous direct hits from hail.
An obvious sign of hail damage is visible on the metal flashing bordering the roof. After a hailstorm, the flashing may show a series of dents in the material.
The area around downspouts and in the gutters may show evidence of mineral granules that have become detached from the asphalt shingles or rolled roofing. Keep in mind, this may be due to hail or from other issues.
The asphalt material may also show signs of round-shaped, tear-drop shaped, or pitted spots where the hail impacted the roof.
Damaged or bruised shingles, if not replaced, will eventually become water absorbent funneling water to the underlayment and decking beneath the roofing material.
Hail also causes cracks within the asphalt shingles and as time passes, water leakage is imminent.
Source: Modernize
JP Roofing & Gutters is a company born in Houston, TX. We have been in business since 1989, we are proud to be Family Owned and Operated, 50% of our business is repeat business, we are fully bonded, and insured. All our work is guaranteed, we strive to be the best roofing company in the Greater Houston Area, by providing you with the best customer service and have you as a customer for a lifetime. Your satisfaction is our Future. Call at 281-463-9077 for Free Estimates.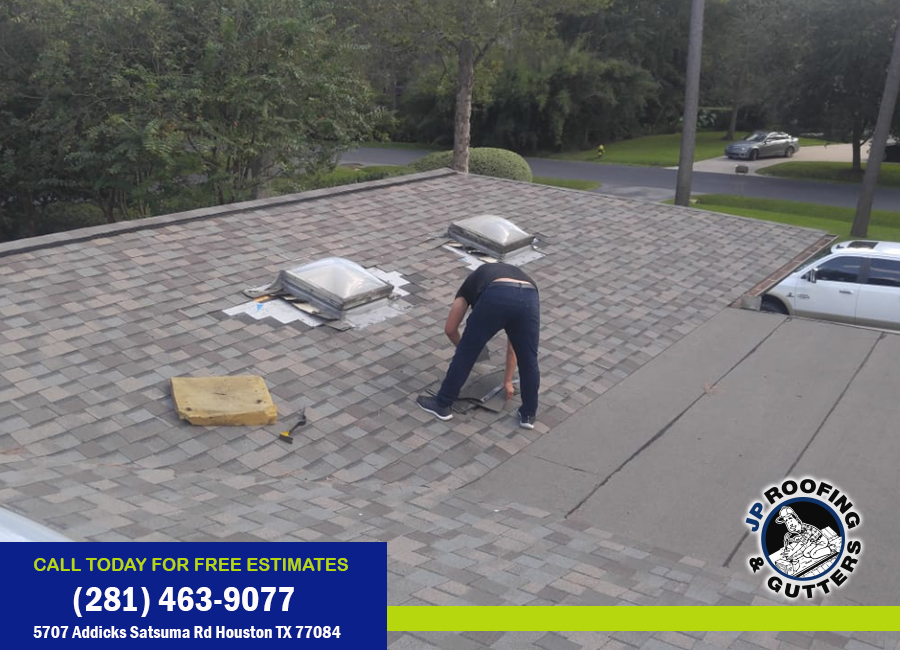 Call now at 281-463-9077 | 📍5707 Addicks Satsuma Rd, Houston, TX 77084, Estados Unidos |
or mail

us

This email address is being protected from spambots. You need JavaScript enabled to view it.

| Get A Free Estimate HERE:
Repair Roofing in Houston
Roofer in Houston, Roofer Services in Houston,Residential Roofer in Houston, Commercial Roofer in Houston, Roofing Company in Houston, Residential Roofing Company in Houston, Commercial, Roofing Company in Houston, Roofing in Houston, Roofing Services in Houston, Residential Roofing in Houston, Residential Roofing Service in Houston, Commercial Roofing in Houston, Commercial Roofing Service in Houston, Roof, Company Installers in Houston, Roof Installers in Houston, Residential, Roof Installers in Houston, Commercial Roof Installers in Houston, Roof Installation in Houston, Roof Company Installation in Houston, Residential Roof Installation in Houston, Commercial Roof Installation in Houston, Roofing Contractors in Houston, Residential Roofing Contractor in Houston, Commercial Roofing Contractor in Houston, Roof Repair in Houston, Residential Roof Repair in Houston, Commercial Roof Repair in Houston, Re Roof in Houston, Re Roof, Residential Roof Maintenance in Houston, Commercial Roof Maintenance in Houston