Houston Roofing Repair

Warning Signs You Need a New Shingle Roof
There's no easy way to say it—roofing is expensive. Still, the several thousands of dollars required to re-roof a home almost seems reasonable when you consider just how important roofing is for a home. It's the barrier that protects you from the wind, rain, sleet, and snow. It helps keeps you stay warm at night and safeguards everything you love from the outside. This is why it's crucial to maintain your roof regularly.
Curling or Discolored Shingles
One of the best signs that asphalt shingles are past their prime is curling or discoloration in the shingle. If you take a look up the slope of your roof and notice that many of the shingles seem to be lumpy, lifted up slightly or peeling back from the surface of the roof, there's a good chance the shingles are past their prime and need to be replaced.
Many Missing Shingles
It's common for a shingle or two to come off in a rough wind storm, especially if a few of them weren't nailed down properly. It isn't common for this to happen in many locations around the roof prematurely, unless the install was very poor. If you've had your roof for at least five years, and you're just now noticing that many shingles are coming off from your roof, it could be an indicator that the shingles are simply wearing out and that you have to have the whole lot replaced.
Old Age
If you have shingle roofing and you've had it for around 20 years or more, it's probably getting close to needing replacement. 3-tab shingles typically only last up to 25 years under ideal conditions, while architectural shingles will make it to 30 in some conditions. If you haven't noticed any of the warning signs above but your roof is fast approaching the top end of its age range, keep a close eye on it and prepare to need to do a full replacement.
Source: Modernize
JP Roofing & Gutters is a company born in Houston, TX. We have been in business since 1989, we are proud to be Family Owned and Operated, 50% of our business is repeat business, we are fully bonded, and insured. All our work is guaranteed, we strive to be the best roofing company in the Greater Houston Area, by providing you with the best customer service and have you as a customer for a lifetime. Your satisfaction is our Future. Call at 281-463-9077 for Free Estimates.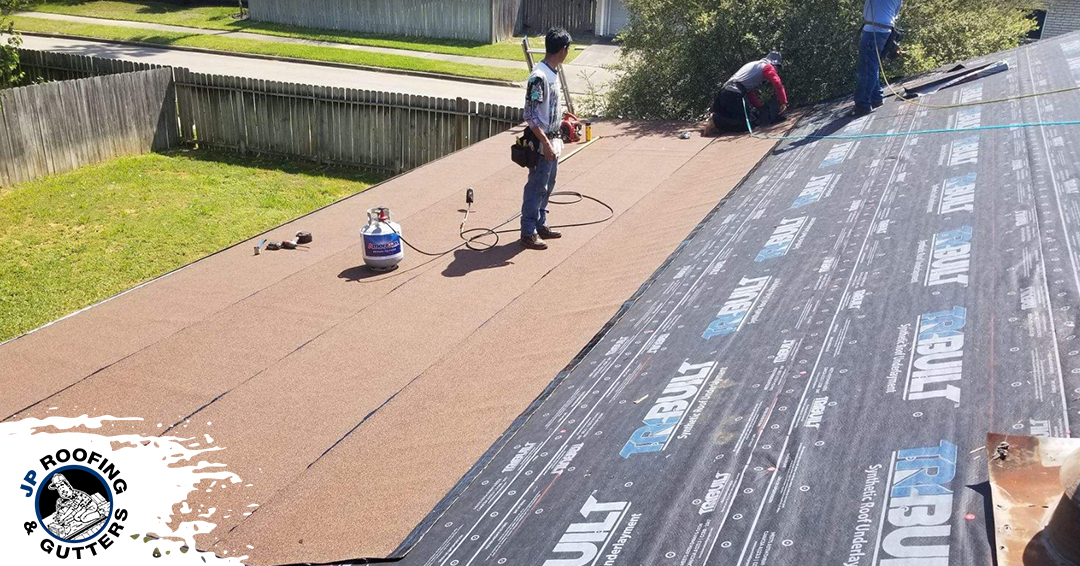 Call now at 281-463-9077 | 📍5707 Addicks Satsuma Rd, Houston, TX 77084, Estados Unidos |
or mail

us

This email address is being protected from spambots. You need JavaScript enabled to view it.

| Get A Free Estimate HERE:
Repair Roofing in Houston
Roofer in Houston, Roofer Services in Houston,Residential Roofer in Houston, Commercial Roofer in Houston, Roofing Company in Houston, Residential Roofing Company in Houston, Commercial, Roofing Company in Houston, Roofing in Houston, Roofing Services in Houston, Residential Roofing in Houston, Residential Roofing Service in Houston, Commercial Roofing in Houston, Commercial Roofing Service in Houston, Roof, Company Installers in Houston, Roof Installers in Houston, Residential, Roof Installers in Houston, Commercial Roof Installers in Houston, Roof Installation in Houston, Roof Company Installation in Houston, Residential Roof Installation in Houston, Commercial Roof Installation in Houston, Roofing Contractors in Houston, Residential Roofing Contractor in Houston, Commercial Roofing Contractor in Houston, Roof Repair in Houston, Residential Roof Repair in Houston, Commercial Roof Repair in Houston, Re Roof in Houston, Re Roof, Residential Roof Maintenance in Houston, Commercial Roof Maintenance in Houston