How to Winterize Your Roof

"WINTER IS COMING," and it's particularly important for Houstonians to ensure the safety and performance of their homes before it does. In preparing to winterize your roof, many people go through their homes to make sure there's no damage and that the cold air from outside won't seep its way into the home. In addition, people take steps such as checking their heating system, hot water heater, and other home components for repair or replacement.
If you're getting your home and yourself ready for a cold Houston winter, it's also important to make sure that your roof is prepared. Your roof provides a fundamental line of defense between your family and any harsh weather. It's essential to keep it in good condition all year and especially before winter arrives. There are specific steps you can take to winterize your roof and help protect your home through the cold months of the year.
If you haven't done so yet, you'll want to have a qualified roofing company to do a thorough inspection of your roof and gutters to be sure they are performing properly. Specifically, the roof penetrations to be sure they are properly secured and sealed or if there are any soft or weak spots on the roof surface. Checking the gutters to be sure there are not any leaves or debris so you get optimal drainage and also the corners and seams for proper sealing so they do not leak
JP Roofing N Gutters is a company born in Houston, TX. We have been in business since 1989, we are proud to be Family Owned and Operated, 50% of our business is repeat business, we are fully bonded, and insured. All our work is guaranteed, we strive to be the best roofing company in the Greater Houston Area, by providing you with the best customer service and have you as a customer for a lifetime. Your satisfaction is our Future. Call at 281-463-9077 for Free Estimates.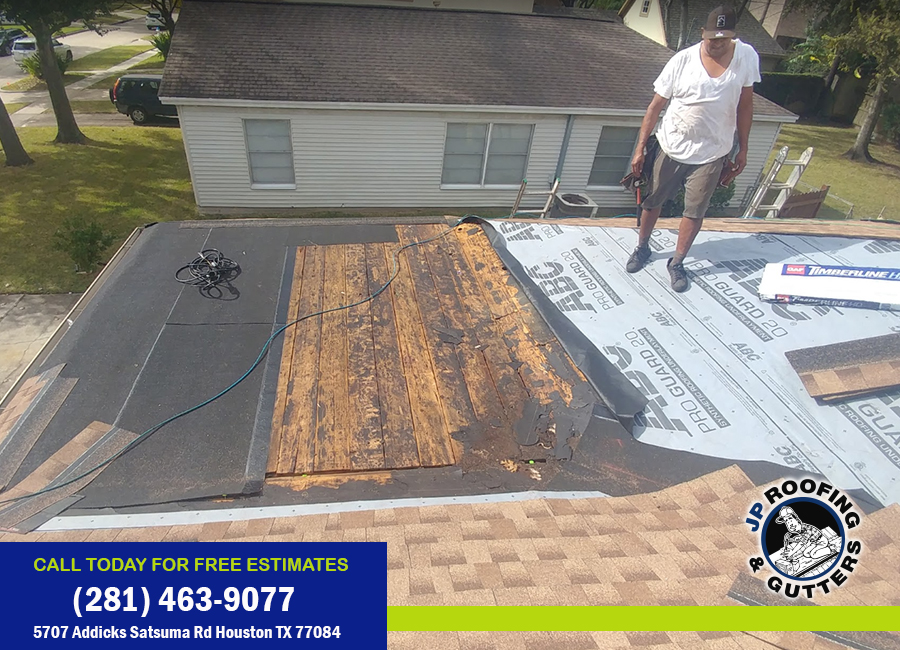 Call now at 281-463-9077 | 📍5707 Addicks Satsuma Rd, Houston, TX 77084 |
or mail

us

This email address is being protected from spambots. You need JavaScript enabled to view it.

| Get A Free Estimate HERE:
Repair Roofing in Houston
Roofer in Houston, Roofer Services in Memorial City, Residential Roofer in Memorial City, Commercial Roofer in Houston, Roofing Company in Houston, Residential Roofing Company in Houston, Commercial, Roofing Company in Houston, Roofing in Houston, Roofing Services in Houston, Residential Roofing in Houston, Residential Roofing Service in Houston, Commercial Roofing in Memorial City, Commercial Roofing Service in Houston, Roof, Company Installers in Houston, Roof Installers in Houston, Residential, Roof Installers in Houston, Commercial Roof Installers in Houston, Roof Installation in Houston, Roof Company Installation in Memorial City, Residential Roof Installation in Houston, Commercial Roof Installation in Memorial City, Roofing Contractors in Houston, Residential Roofing Contractor in Houston, Commercial Roofing Contractor in Houston, Roof Repair in Houston, Residential Roof Repair in Houston, Commercial Roof Repair in Houston, Re-Roof in Memorial City, Re-Roof, Residential Roof Maintenance in Houston, Commercial Roof Maintenance in Houston