Roofing Companies in Houston

Home Improvement Projects that Will Extend the Life of Your Siding and Roof
Your roof and your siding—they're your home's literal first defense against the elements, so you want to make them last as long as possible. Unfortunately, those same elements can take an eventual toll on your home's exteriors, particularly if you don't put much maintenance into them. Like most things in life, when it comes to the lifespan of your home's surfaces, you get as much out as you put in.
Fix Clogged and Damaged Gutters and Downspouts
Your home's gutters aren't there just to fill up with leaves. They actually serve the practical purpose of protecting your roof and your siding from runoff. That may sound innocuous—it's just rain after all!—but consider this: your siding likely has small cracks from where boards or sides are joined. That means moisture could make it behind your home's cladding, causing leaks and mold, and damaging your walls and wall cavity insulation.
To protect the exterior of your home, your gutters need to be cleaned at least twice a year—once in the fall, and once in the spring. But you can do them more often if you live in a particularly debris-prone area. Use a hose to flush them clean and make sure the gutters and downspouts all work properly.
This is a great time to check your drainage equipment for leaks.
Source: Modernize
JP Roofing & Gutters is a company born in Houston, TX. We have been in business since 1989, we are proud to be Family Owned and Operated, 50% of our business is repeat business, we are fully bonded, and insured. All our work is guaranteed, we strive to be the best roofing company in the Greater Houston Area, by providing you with the best customer service and have you as a customer for a lifetime. Your satisfaction is our Future. Call at 281-463-9077 for Free Estimates.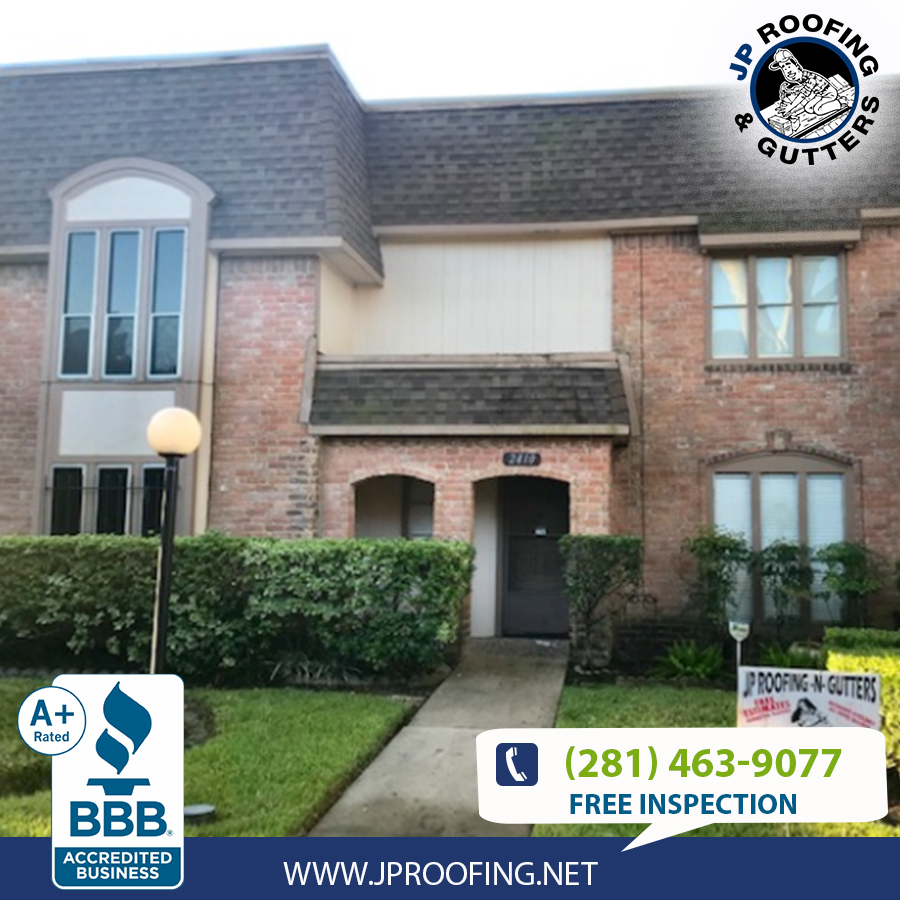 Call now at 281-463-9077 | 📍5707 Addicks Satsuma Rd, Houston, TX 77084, Estados Unidos |
or mail

us

This email address is being protected from spambots. You need JavaScript enabled to view it.

| Get A Free Estimate HERE:

Roofer in Houston, Roofer Services in Houston,Residential Roofer in Houston, Commercial Roofer in Houston, Roofing Company in Houston, Residential Roofing Company in Houston, Commercial, Roofing Company in Houston, Roofing in Houston, Roofing Services in Houston, Residential Roofing in Houston, Residential Roofing Service in Houston, Commercial Roofing in Houston, Commercial Roofing Service in Houston, Roof, Company Installers in Houston, Roof Installers in Houston, Residential, Roof Installers in Houston, Commercial Roof Installers in Houston, Roof Installation in Houston, Roof Company Installation in Houston, Residential Roof Installation in Houston, Commercial Roof Installation in Houston, Roofing Contractors in Houston, Residential Roofing Contractor in Houston, Commercial Roofing Contractor in Houston, Roof Repair in Houston, Residential Roof Repair in Houston, Commercial Roof Repair in Houston, Re Roof in Houston, Re Roof, Residential Roof Maintenance in Houston, Commercial Roof Maintenance in Houston