Repair Roofing in Houston
Roof Over: Roofing Repairs
The time has come for a new roof and there's a decision to make whether to tear off the old asphalt roofing and replace it or add new asphalt roofing over the existing material. It can be a dilemma, but with a few helpful tips covering the pros and cons, you'll have the information needed to make the right decision.
Do an inspection of your roof or hire a roofing contractor to tell you how many layers of asphalt your roof has. If it's more than two layers of shingles, chances are good you'll need to do a complete tear-off.
The Lifespan of Asphalt Roofing
For the most part, the average lifespan for an asphalt shingled roof ranges from 15 to 25 years. How well the material holds up depends on the types of shingles as well as the region where you live.
Some roofing materials are better suited to particular areas of the country than others. Asphalt is well-known as a durable and long-lasting material but inclement weather and aging of the material can impact and affect its life expectancy.
Roof Issues
Issues to look for when inspecting the roof include signs of aging such as the loss of asphalt granules and curling at the edges of the shingles. If the roof is showing signs of a leaking roof, this is important to know as the issue(s) causing the leaks are usually due to a breakdown in the roofing system.
Areas around vent flashings, roof vents, chimneys, and skylights along with inclement weather creating ice dams, interior condensation, or heavy wind and rain can also play a part in creating roof leaks.
Source: Modernize
JP Roofing & Gutters is a company born in Houston, TX. We have been in business since 1989, we are proud to be Family Owned and Operated, 50% of our business is repeat business, we are fully bonded, and insured. All our work is guaranteed, we strive to be the best roofing company in the Greater Houston Area, by providing you with the best customer service and have you as a customer for a lifetime. Your satisfaction is our Future. Call at 281-463-9077 for Free Estimates.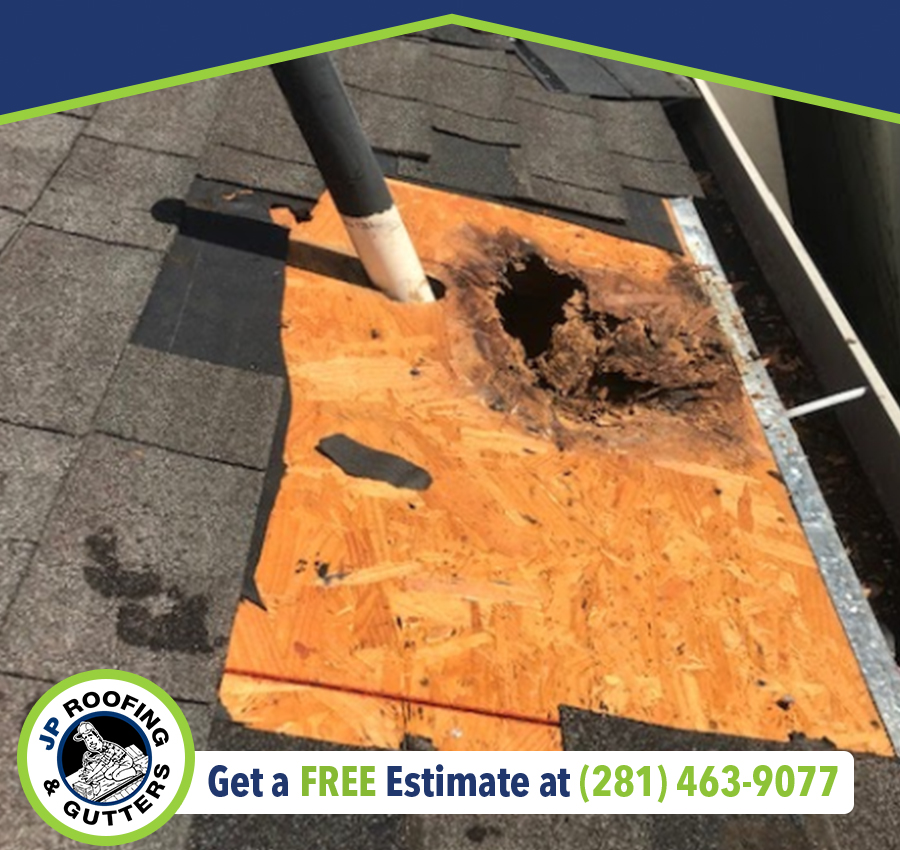 Call now at 281-463-9077 | 📍5707 Addicks Satsuma Rd, Houston, TX 77084, Estados Unidos |
or mail

us

This email address is being protected from spambots. You need JavaScript enabled to view it.

| Get A Free Estimate HERE:

Roofer in Houston, Roofer Services in Houston,Residential Roofer in Houston, Commercial Roofer in Houston, Roofing Company in Houston, Residential Roofing Company in Houston, Commercial, Roofing Company in Houston, Roofing in Houston, Roofing Services in Houston, Residential Roofing in Houston, Residential Roofing Service in Houston, Commercial Roofing in Houston, Commercial Roofing Service in Houston, Roof, Company Installers in Houston, Roof Installers in Houston, Residential, Roof Installers in Houston, Commercial Roof Installers in Houston, Roof Installation in Houston, Roof Company Installation in Houston, Residential Roof Installation in Houston, Commercial Roof Installation in Houston, Roofing Contractors in Houston, Residential Roofing Contractor in Houston, Commercial Roofing Contractor in Houston, Roof Repair in Houston, Residential Roof Repair in Houston, Commercial Roof Repair in Houston, Re Roof in Houston, Re Roof, Residential Roof Maintenance in Houston, Commercial Roof Maintenance in Houston